Volunteers Exhibition in Alvesta Station, NOW OPEN!
If you hear a voice within you say 'you cannot paint,' then by all means paint, and that voice will be silenced.
Vincent Van Gogh
Hej there, it's Anna from Ukraine (volunteering in Alvesta) here!
During this year I was sketching sometimes. Some of this sketches you can see in Exhibition hall, were Vanessa (the other volunteer in Alvesta, from Spain) and I have exposed our arts till 15th of October, everybody is welcome! 😉 but also I want to share it here.
So you can see sketches from exhibitions, which took place in Alvesta Exhibition Hall during 2017.
Japanese exhibition. I was very inspired by this object with cranes, colors ans composition, so I made many sketches with it.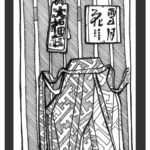 20 years of exhibition hall. This exhibition was very special. Every day we were placing new exhibits, which took place in exhibition hall during 20 years. So at the end we had unnumbered amount of staff with it's own history.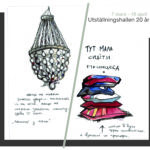 Translation: If you can't find a door – paint it. (H. Pahutyak "Kingdom"), so if you can't find a lamp – make it.
"The Princess had to sit here." Pillows with flags reminded me tale "The Princess and the pea":)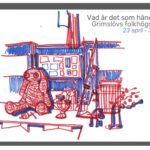 Grinslövs high school. Students exhibited many interesting object, but big colorful knitted rabbit was the most impressive, and scared me a lot:) I am sure, this rabbit can become horror movies' star.
Tyrolen. You shoud definatly visit it. This summer we was showing photoes from rock festival in Turolen. Also, we wanted to bring small piece of festival to the exhibition hall and put tent there. And it reminded me about summertime on music festivals in Ukraine. Nice flashback:)
Siw's rag rugs. We have so many flowers during this exhibition. And they looks amazing with rag rug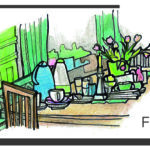 s.

Fika. Whathever you are in Sweden, you have fika. How could I skip it?
Bookpärlan. Also we work with Bookpärlan and help to sell books. It this we have many-many books around.
Do you like what you see?
Come meet us in Alvesta and let's talk about art and share thoughts about!
We are waiting for you on the second floor of Alvesta central station, see you there!