Here it is! Last summer workers week. Since it was last week we went a little bit easy. In this week we summarized all work we had done and presented it to everyone. So here how it all went.
    Not so lazy monday… If you remember På Ingån's summer workers were preparing presentations about 5 different topics that is arts/crafts, martial arts, dance/theater, music and ball sports. And this monday was a day for those presentations to finally see daylight. There was a little twist! they had to prepare not just a presentation but also an activity for us so as you can imagine this day was quite interesting and we had variety of different activities. Besides that we learned a lot of new things about each topic we had arm wrestling competition, ball throwing competition, dancing around chairs game, we created figures/statues from newspapers and special glue/clay and we created SIP anthem! And it's still not enough! After that we had a discussion about a day when we met politicians. Summer workers shared knowledge that they got in politicians answers to them. And after that we wrote thousands of notes because we missed each other over a weekend!
    Celebration day! This day was a big day for all summer workers because they presented work they were working on for days! In the morning Therese informed us that on next day we are going to visit a Växjö hockey arena! And talked a bit more about it: rules, times etc… After that information we started to prepare our celebration! We moved all painted furniture in a nice place outside, planted flowers in a painted old tires, prepared fika and rehearsed SIP's anthem. I hope you enjoyed this little celebration!
    Hockey arena day!!! We started a day with some energizers and easy games to move a little. And later we got what we were waiting for all day… We went to visit hockey arena!!! And it was AMAZING! We saw everything! backstage of the arena, locker rooms, VIP lounges… everything! There was really nice lady who was our guide and she told us a lot of stuff and answered all questions we had. She was so super nice that we even got a tickets for a hockey match!! Best day ever!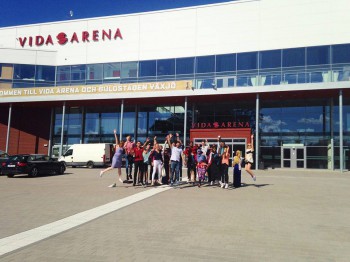 BBQ day! This day we went to Fyllerydskogen. We learned how to make bread on sticks! And then we cooked it in fire place. And then we had a Brännboll world championship! Weather was nice so everyone enjoyed this day.
    Last day :/ So this was our last day… that means a lot of paperwork like filling in work times and other serious stuff.. But not to let our mood down we had fun being outside! We had balloons and water.. water + balloons.. I think you know where i'm going with this one. We played something similar to tennis outside just with sheets and balloons filled with water! In a middle we had a little fika to get some energy for next game! And then we played a concentration game where all you need to is throw ball to a next person as fast as possible, but to make it more interesting after some time we switched regular ball to a balloon filled with water!! Besides these games with balloons we had some other active games to run around a bit. After fun outside we came back inside for ending ceremony where we gave away those envelopes with thousands of notes! Cleaned place after ourselves one last time and said goodbye.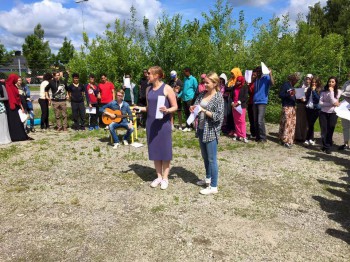 So this is it! Now you at least know what På ingån's summer workers were doing all those 3 noisy weeks. As you can see we didn't run upstairs to make ceiling fall apart in first floor on purpose. We learn a lot of new things, improved SIP's surroundings and had a great time doing it!
/ Marius Gribovskis, volunteer in På Ingån