Hej/bongu/hello/zdravei/privit/bonjour/sat sri akal
(did I forget any language?)
Many events have taken place since the last entry in which I told you there was going to be a workshop, some language learning, time for work and time for play.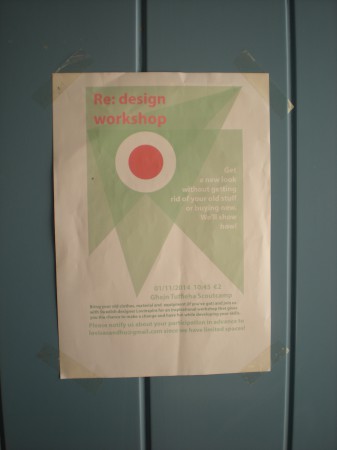 First thing's first I am sad to inform you our co-volunteer and friend Taras had to return to Ukraine. There is war going on in the world and we must not forget or ignore this sensitive topic. It is easy for the headlines in the news to remain only words and sometimes it takes a connection for us to realize these things are actually happening as we speak. Everyday we should be thankful that we and the ones we love are alive and safe. True comprehension of this can provide strength to endure all the little unfortunate events like missing buses, having arguments or fighting insecurity because you know that whatever battles you have are miniscule obstacles you will survive. You will come out a little wiser, a little stronger. There are many sides to the many parallell stories that the world is writing right now. Not only in a global perspective but also in all the many lives on this planet, this continent, country, city and inhabitants. It's beautiful and complex. It's life.
Speaking of news, we at Ghajn Tuffieha got some good things to share! Yesterday we recieved a new addition to our team from Ukraine: Volodymyr! He is a sporty guy from the town of Lviv and will be working at the campsite for 8 months. Welcome!
Regarding the workshop mentioned earlier it was a nice experience for both me and the participants! It was held the 1st of November for the campsite guests. The youngest was a boy at the age of four and the average was girls of about 11 years of age. In total there was about 10 kids attending this event and the response was positive ("Miss, will you be here tomorrow too? Will you have another workshop?")
The workshop consisted of 6 steps:
-Restyle (open your mind to the possibilities of creative wear)
-Cut it out! (no sew customizing inspiration)
-Cha-cha-cha-changes (simple diy sewing)
-Repair (fix your things in a fun and creative way)
-Needles to say (embroidery and adding)
-Paint it back! (printing, handpainting and coloring ideas)
Since the participants did not bring items of their own for the workshop I used a shirt and a scarf to show them some simple styling magic and after going through the different steps of redesign we made stencils and printed on fabric carry bags donated to us from the scouts. The inspiration was top knotch, the mess afterwards… Not so much. Still it was a great day and I think it should happen again next year. It will be improved, maybe split into different workshops to dive deeper into the 6 different ways to make your closet more creative and sustainable. A hearty thank you to all who contributed with equipment, material and feedback. Especially Pat, Les, Loraine, Mavic and the Scout Association of Malta. You are gold!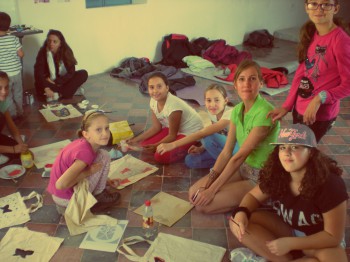 Another fantastic thing that happened was the "On Arrival Training" (totally missleading name.) This training meant a full weekend (6-9/11) of activities, info and fun with a total of 19 volunteers from allover the place who have come to Malta to contribute with their time and energy to different organizations. The workshops provided us with a variety of tools and perspectives to make the best and get the most out of our time in our projects. The inspiration and days did not want to end but the weekend went fast! So a little more experienced, a little more aware of what volunteering can offer and a quite tired from all the dancing and socializing we packed our bags and headed back to the campsite. Us volunteers stick together though and make sure to meet as time allows! We've been on exploring adventures, death by cake experience at Fontanella café in the old city of Mdina, a fire ceremony by a community called "Why Not?" and the november film festival just to name a few things.
I am also really enjoying my work here in Malta, especially appreciating the creative side to this project. Lately I have been busy wrapping up books and making 40 individual freestyle typography name tags for the different scout groups, designing an info booklet about us volunteers and in the near future there will be new layout and illustrations with jungle theme for the cub leader handbook!
On the 25th of November I got the honor of helping out with preparations for the scout's Wood Badge Ceremony held at the head quarters in Floriana. Some of the leaders were awarded with the Wood Badge and other certificates for completing certain courses and training. Especially happy about meeting so many enthusiastic new and experienced scout leaders, getting to wear my new uniform, production of the entrance sign and of course setting the large table of obligational foods and goodness to make all promises of a healthy lifestyle go down the drain and sugar levels go swoosh through the roof!
If you're reading this now it means I'm gone… Or no wait… Actually it just means that you've made it through this large quantity of text. So congratulations! This will be enough for now though so as for the language learning you will have to look forward to in the next entry

Cheers! // Lovisa of Islandland