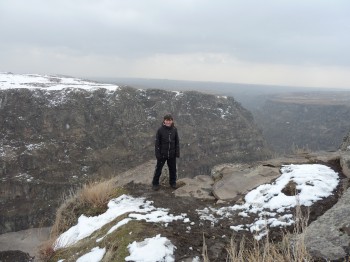 Cities, like people, are beautiful each in their own way.
The 2nd of February. I am waiting uncertainly in the line for a passport control at the airport in Yerevan. I just arrived. Butterflies in my stomach and a million thoughts in my head but above all one main…..did I make a good decision leaving comfortable and safe Sweden for a country I do not know anything about except the number of population and the name of the capital? Nobody can answer this question. Even I will get to know the answer only in one year, when my project is going to be over…..
…..night….the taxi carries me into the unknown. The uncertainty mixed with the curiosity is increased by tiredness. Eyes curiously stare at the shapes looming up in the darkness behind the window and try to decipher neon signs and inscription on the buildings. They try, but….this attempt makes me falling into even greater doubter. I wonder if it will be possible to understand this strange pictograms and language which suddenly became to surround me from all sides.
The feeling of uncertainty disappears for one day when I come to the organization. The big poster on the wall with the picture of me and children from my previous EVS job in Spain says Welcome Malgo. It makes me smile and directly bring great memories but at the same time it creates new questions in my head…how I am going to manage the work here? How long it takes to adapt? Is it even possible to adapt in the country there culture is so different than in Europe?
The next step is to become familiar with my new work, where I am going to spend the next few months. The Centre for children with disabilities. I am shown the facilities and presented my future co-workers. Already after a few minutes I become so confused that I do not remember any of the names and I do not know in which part of the building I actually stay. So many new faces… teachers, therapist and children…. But already today, after more than two weeks working there I am familiar with this place. Strangers become friends, children have names…. Avetis, Alen, Susi, Arina, Aram, Nikolaj, Erik, Elen, Mariam…it is only few names of all 48 children….children and their unforgettable smiles.
Yerevan…. Somebody once said that "cities, like people, are beautiful each in their own way". Yerevan with many buildings built of cheerful pink colour stone tufa contrasting with the blue sky over them tells its own story. Full of small nuances, revealing daily sense and nonsense makes me sometimes smile, sometimes confused. The breathtaking view over the city from the top of Cascad at night gives the solace…. .
Malgorzata Witczak (Malgo)