As you may already know last month was a little bit more crowded here at SIP than usual. The reason for that is that we had a lot of summer workers who did a lot of work here. And I'm guessing that you might be interested in why they were so loud and what they were doing all these weeks, well then I'm about to tell you!
    We greeted 24 youngsters that arrived to Sweden from countries like Somalia, Syria, Iraq, Iran. We had variety of youngsters some of them had difficulties communicating in Swedish or English so it wasn't easy for us either. Between 24 youngsters there were 5 youth leaders from Sweden and their task was to help others to integrate into local society and just be near them when needed.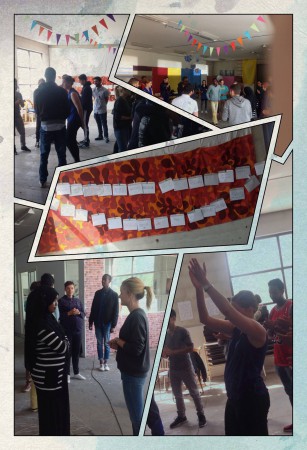 First week wasn't too intense I would say, because youngsters were in a new country, new place, had to speak in a different language and met a lot of other people with different sets of mind and culture. That's why our task was to get them together. First day we made them a little tour around SIP so they could know where to find what. Later of course we introduced to them what is SIP and what we are doing. That is quite some information so we needed to do something more active. In order to get them closer we did some methods like social bingo, interviewing each other and so on so they could get to know others better. After they learned more about others we asked them to choose one of 5 topic based groups: arts/crafts, martial arts, dance/theater, music and ball sports. Later they are going to prepare big presentation for others about their topic. We ended first day with cleaning place after ourselves and writing nice notes to each other that we put in envelopes to lift up spirits and confidence but we can read those notes just in a last day.
    On a second day we combined our forces with Globala's and Funkibator's summer workers and started to decorate surrounding around SIP. Until lunch Pä Ingån group of summer workers prepared outside furniture for painting and Globala group was painting old tires and all that happened while På tal om 6 was preparing us amazing and very tasty vegetarian lunch! After lunch everyone continued with their work. And we ended day as usual by writing nice notes to each other.
    Third day Amalia and Therese made a presentation "how to make a good presentation" and showed us good and bad examples of it. Showed it so good that they deserved Oscar for that! After presentation summer workers started to work in 5 groups, they were researching information about their topics and started to think about their own presentation that they will have to present later. And as you might guess by now we ended day with more nice notes to each other!
    Forest day! On fourth day we went to a beautiful forest to hear what representative of environment organization had to say to us about general rules being in a forest, what we can and can't do or take. Right after that summer workers were treasure hunting! But since we are not pirates and we just learn what is allowed to do in a forest and what is not they needed just take a picture of the treasures with a proof that they found it. Gladly youngsters were very creative and managed to find even a lion! After treasure hunt we were very thirsty and as everyone knows to drink straight from puddles or lake is not very good for that's why Aria taught us how to make water filter from plastic bottles, cotton, gravel, rocks and so on… When all of us drunk enough to suppress our thirst we went back to SIP to write even more and even nicer notes than ever to each other
    Now you know what was happening first week! I hope your week was as much fun as ours! Stay tuned, there is two more weeks to talk about! Have a nice day!
/ Marius Gribovskis, volunteer in På Ingån