New EVS volunteer in Projektor, Sara from Italy
Hej, it's Sara here, one of the new volunteer just arrived in Vaxjo, from Italy, few days ago. Which Sara? you may wonder, because apparently there are lots of Sara in the world and in Sip too, so just call me Sara M.
I will spend an entire year in your lovely cozy city, so you will have time to know me if you want. But, in the meantime, let me just present myself in a different way: using the 5 senses to share anecdotes about me, so you can better understand who I am.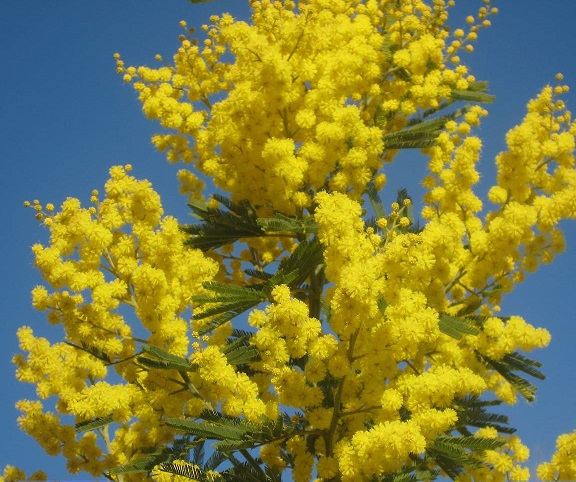 Let's go with the first one, SMELL: the scent of a mimosa in bloom. I remember, when I was a kid living in my parents' home, this huge mimosa plant of our neighbor. It was so big that its branches reached the street and during the spring its flower, falling, dyed all of bright yellow, including the slope that led to our house (making my mum angry eheh). The scent was very strong and persistent, you could smell it meters away… lucky me for loving it! I like plants and flowers in general, but this one is kind of special for me, connected to lots of memory. And you know?! The Ancient Egyptians considered Mimosa as a sign of rebirth and still, one of the meanings of it is (that of?) strength and femininity; another reason to love it even more.
SOUND: the puuurrrrr of a cat. I grew up in the countryside, in a very quiet area. In our street there were only 6 houses so you can imagine (that) there was not much to do for a child… but there were many cats to entertain me! In the beginning they were all stray cats that I, with the patience of a child, tamed one by one (for my parents happiness eheh). They became my best friends and the cool thing was that they trusted me only and used to follow me in group wherever I went, like dogs do. For a while I thought I had some sort of special power for that. Now of course I don't, but I still feel particularly connected to cats; I know them very well and I am able to understand their needs easily.
TASTE: ok now, for those of you who know a tiny bit about Italy, I will be more predictable. I could not choose just one thing so here are two that go hand by hand: the taste of pizza and espresso (made in the Italian way). Funny story: my favorite pizza is not so common also in Italy. You can easily find it in Tuscany, where I was born and lived more than half of my life, but not in other region. It's made with tomato sauce, speck, no mozzarella on it but in its place "mascarpone", a soft type of cheese that the majority of people eat in a sweet way (it is the same one used to make "tiramisù"). If you've never tried it, believe me, salty mascarpone is delicious! And at the end of every Italian meal here it is: espresso.
Made with mocha, poured into a small cup and strictly short, dark, rich. I know foreigners usually find it too strong but for me there's only one type of coffee and it is this one.
There are still two senses to go, sight and touch… But I think I wrote enough for this post and I don't want to bore you. So I will leave you with the curiosity, I hope. Talk to you soon!
/Sara M., EVS-volunteer in Globala Kronoberg and Drömmarnas kontor